WHY HIRE A STARLIGHT DANCE FLOOR?
Why not give your event that WOW factor!
Our Amazing starlit LED dance floors are perfect for creating a magical atmosphere!
Our L.E.D dance floors use a special locking system which ensures that all pieces will not come loose.
The starlit dance floors can be laid in different shapes being either square or rectangular. This makes it perfect to use as a cat walk for a fashion show or as a walkway for a civil ceremony or awards evening.
Perfect for weddings, civil partnerships, corporate events, celebrations, themed parties, awards nights, proms and leavers balls, presentations, exhibitions and expos, our range of services are all designed to enhance and add that extra special touch to your event.
Our Dance floors are Perfect for:
Weddings
Catwalks & Fashion Shows
Corporate Events
School Formals
Birthday Parties
Exhibitions
Marquee Events
Christmas & New Year Events
We pride ourselves on being a luxury hire company with an unrivalled level of support and service covering the UK. With much investment in our infrastructure, we are able to offer niche products, efficient service, solutions and guidance to ensure our clients receive exceptional service and products suited to their requirements. We are forever resourcing new and upcoming bespoke products. We offer a consultation free of charge, and our team are on hand whenever you need us.
ABOUT THE DANCE FLOOR AND USES!
The starlit dance floors have LED's built in which allow it to produce a sparkling effect. You can choose different settings at which the lights on the dance floor change using a very simple remote control.
The starlit floors can be laid in both a square and rectangular shape. This makes them perfect to use as a cat walk for a fashion show or as a walkway for a civil ceremony or awards night.
HOW THE DANCE FLOORS WORK?
As the floor use LED's it requires a minimal amount of electricity, our dance floor's are suitable for both marquees and traditional wedding venues, which requires one 13amp plug socket and a flat surface.
Our trained staff will deliver, set up and remove the dance floor. During installation we will also fit a polished aluminium edge so that your guests can step on and off without tripping. (it is the same height as a traditional wooden dance floor).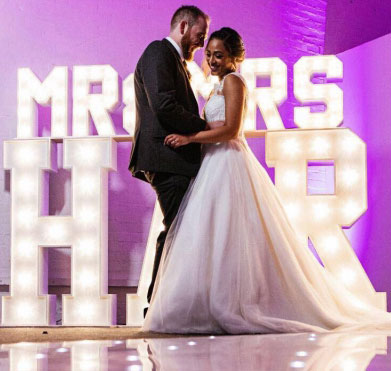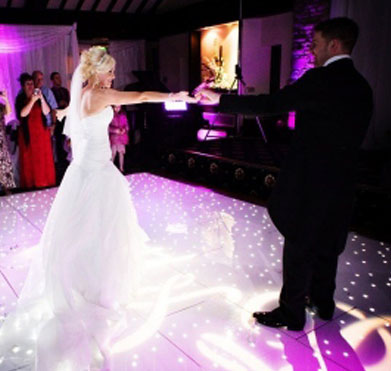 INTERESTED IN HIRING A DANCE FLOOR?