When planning a wedding, the thought of wedding entertainment for your guests can be a daunting. Of course, they are entertained simply seeing the happy couple tie the knot, but when the plates are stacked and the first dance is danced, what could make the night even more memorable? And what's more, how can you combine wedding thank you token, with wedding evening entertainment?
Well, thankfully we know some ways. So we'll start here: bespoke design photo booth. Our photo booths can be pulled this way and that to suit your own wedding style – because let's face it, we all have one. From floral garlands to rock 'n' roll, from 007 to 70s camper van, we can do it all and that's only the outside.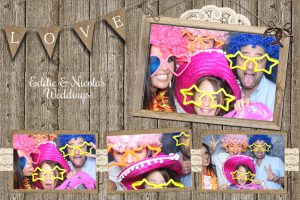 We work with all our customers prior to their special day to develop a personalised print design that they love, our in-house designers then create the content and load into the machines, ready to go. And come the wedding day, every single photo (yes, even those you don't want!) is printed twice, that's one for the guests to take home and treasure, and one for the guestbook, which is included in your booking!
With a trained and professional member of our team operating the booth, handing out funky props to aunts, friends and grandads – considered your wedding guests entertained. They'll won't be able to get enough! Browse our range of photo booths here: https://bit.ly/2DkmUzi
And don't just take our word for it, the experts at Weddings Idea Mag have also pulled together their 9 reasons why hiring a photo booth is a must for the big day, have a read here: https://bit.ly/30WcCOe