Our 4ft giant letter lights are the perfect way to give your special occasion the wow factor. We have A-Z letters available meaning our customers can spell any word they'd like, have Mr & Mrs with ana initials or even arrows to light the way for guests. Letter lights a great way to add a personal touch to weddings, birthdays, baby showers or corporate events.
WHAT LETTERS COULD WE HAVE?
Our letter signs just shout fun and are a great way to add that little bit of personality to your big day. Whether you want to spell out LOVE or initials, spell out words, or even arrows in bright bold lights to point your guests in the right direction, or keep as simple classy white. We highlighted them this year due to an emerging trend that has become crazy popular! Light Up letters and signs can be hired for any type of Corporate Event, Wedding, Christening, or Birthday Celebration. So if you're considering adding a bit of LIGHT FUN to your wedding, party or Corporate event look no further.
We want to ensure our customers know how seriously we treat the safety of our products. We use low voltage LED bulbs to ensure that the lights are cold to touch with no glass is involved, unlike incandescent lightbulbs which get extremely hot and could easily burn. Our letters stand at 4ft tall and are very sturdy making them virtually impossible to knock over giving customers complete piece of mind. The letters are power by a 24v volt transformer that prevents a electric shock if children touch them.
LIGHT UP LETTERS ARE PERFECT FOR
Weddings
Birthdays
Product Launches
Corporate Awards and Parties
Grand Openings>
Fashion Shows
Shop Windows
Anniversaries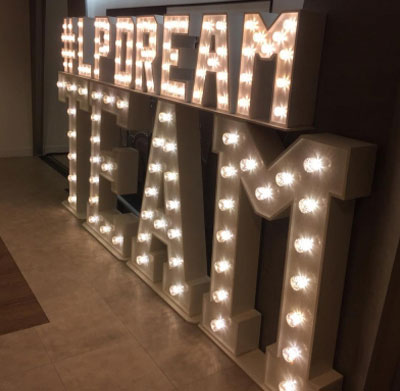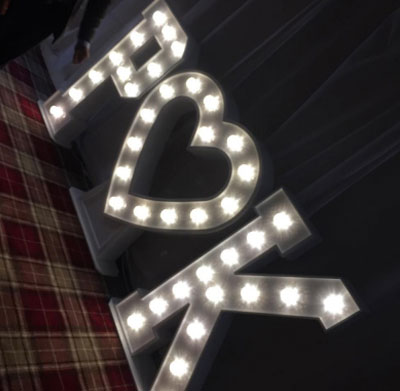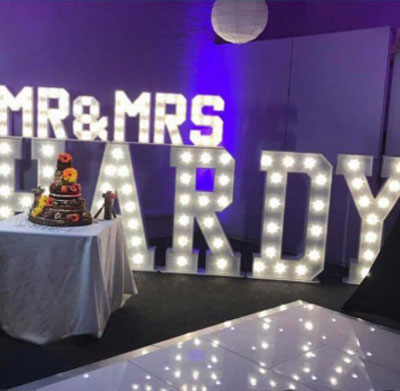 INTERESTED IN HIRING LETTERS?